Klansman, Racist, and Democrat Robert Byrd's Name and Portrait Must be Removed
In the early 1940s Robert Byrd recruited 150 of his friends and associates to create a new chapter of the Ku Klux Klan in Sophia, West Virginia…. In 1946 Byrd wrote the following to segregationist Mississippi Senator Theodore G. Bilbo:
"I shall never fight in the armed forces with a negro by my side… Rather I should die a thousand times and see Old Glory trampled in the dirt never to rise again than to see this beloved land of ours become degraded by race mongrels a throwback to the blackest specimen from the wilds."
"In 1946 Byrd wrote a letter to a Grand Wizard stating 'The Klan is needed today as never before and I am anxious to see its rebirth here in West Virginia and in every state in the nation.'"
His portrait needs to be removed from the lobby of the capitol.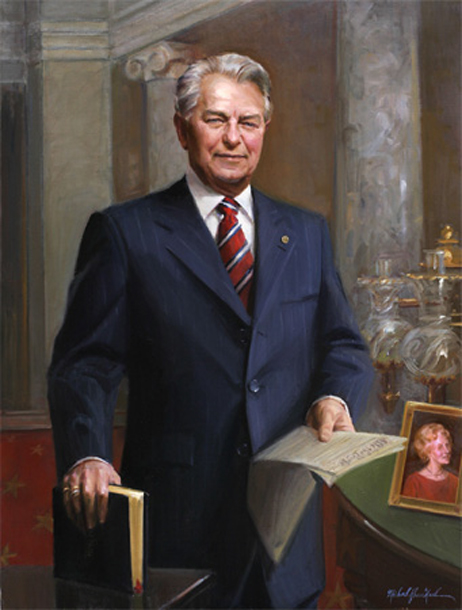 Trending: What's Happened to Ann Coulter?
Here's a list of all the places named after former Klansman and racist Robert Byrd that need to be removed if Democrats are going to be consistent: 
Robert C. Byrd Academic and Technology Center Marshall University in Huntington.
Robert C. Byrd Academic and Technology Center Marshall University Graduate College in South Charleston.
Robert C. Byrd Auditorium National Conservation Training Center in Shepherdstown.
Robert C. Byrd Biotechnology Science Center Marshall University in Huntington.
Robert C. Byrd Cancer Research Laboratory University in Morgantown
Robert C. Byrd Center for Legislative Studies Shepherd University in Shepherdstown
Robert C. Byrd Center for Pharmacy Education University of Charleston in Charleston
Robert C. Byrd Center for Rural Health Marshall University in Huntington
Robert C. Byrd Clinical Teaching Center Charleston Area Medical Center Memorial Hospital in Charleston
Robert C. Byrd Green Bank Telescope Green Bank
Robert C. Byrd Hardwood Technologies Center Princeton
Robert C. Byrd Health and Wellness Center Bethany College in Bethany
Robert C. Byrd Health Sciences Center University in Morgantown
Robert C. Byrd Health Sciences Center Charleston Division Charleston
Robert C. Byrd High School Clarksburg
Robert C. Byrd Institute for Advanced Flexible Manufacturing (RCBI) Bridgeport Manufacturing Technology Center Bridgeport
RCBI Charleston Manufacturing Technology Center South Charleston
RCBI Huntington Manufacturing Technology Center Huntington
RCBI Rocket Center Manufacturing Technology Center Rocket Center
Robert C. Byrd Institute for Composites Technology and Training Center Bridgeport
Robert C. Byrd Library Wheeling
Robert C. Byrd Library and Robert C. Byrd Learning Resource Center University of Charleston in Beckley
Robert C. Byrd Life Long Learning Center Eastern Community and Technical College in Moorefield
Robert C. Byrd Life Long Learning Center University in Morgantown
Robert C. Byrd Metals Fabrication Center Rocket Center
Robert C. Byrd National Aerospace Education Center Bridgeport (affiliated with Fairmont State University)
Robert C. Byrd National Technology Transfer Center Wheeling Jesuit University in Wheeling
Robert C. Byrd Regional Training Institute Camp Dawson near Kingwood
Robert C. Byrd Science and Technology Center Shepherd University in Shepherdstown
Robert C. Byrd Technology Center Alderson — Broaddus College in Philippi
Robert C. Byrd United Technical Center
Robert C. Byrd Hilltop Office Complex Rocket Center
Robert C. Byrd Industrial Park Moorefield
Robert C. Byrd Community Center Pine Grove
Robert C. Byrd Community Center Sugar Grove
Robert C. Byrd Rooms Office of the Senate Minority Leader State Capitol in Charleston
Robert C. Byrd United States Courthouse and Federal Building Beckley
Robert C. Byrd United States Courthouse and Federal Building Charleston
Robert C. Byrd Federal Correctional Institution Hazelton
Robert C. Byrd Clinic School of Osteopathic Medicine in Lewisburg
Robert C. Byrd Clinical Addition to Veteran's Hospital Huntington
Robert C. Byrd Addition to the Lodge at Oglebay Park Wheeling
Robert C. Byrd Conference Center (also known as the Robert C. Byrd Center for Hospitality and Tourism) Davis & Elkins College in Elkins
Robert C. Byrd Visitor Center Harpers Ferry National Historical Park in Harpers Ferry
The Robert C. Byrd Bridge crossing the Ohio River between Huntington and Chesapeake, Ohio.
Robert C. Byrd Appalachian Highway System Appalachian Development Highway System
Robert C. Byrd Bridge crosses the Ohio River between Huntington and Chesapeake Ohio
Robert C. Byrd Bridge Ohio County
Robert C. Byrd Drive Routes 16 and 97 between Beckley and Sophia
Robert C. Byrd Expressway United States Route 22 near Weirton
Robert C. Byrd Freeway United States Route 119 between Williamson and Charleston (also known as Corridor G)
Robert C. Byrd Highway United States Route 48 between Weston and the Virginia state line near Wardensville (also known as Corridor H)
Robert C. Byrd Interchange on Interstate 77
Robert C. Byrd Interchange on United States Route 19 Birch River
Robert C. Byrd Intermodal Transportation Center Wheeling
Robert C. Byrd Locks and Dam Ohio River in Gallipo