IRS and Liberal Groups Silent on Black Churches Politicking
For decades Black churches have been used for political ends. The Montgomery bus boycott was supported by black pastors. The Civil Rights Movement was led by the Reverend Martin Luther King. Here are some of King's comments where he mixes religion and politics:
Put these same words in the mouth of a conservative pastor and you can hear the screams: "intolerance," "keep religion out of politics," "you can't impose your morality on others," "separation of church and state," and it's against the law according to IRS regulations.
Liberals don't oppose the impact of morality on social issues as long as they agree with the issue. They only oppose the relationship between morality and social issues when such an alliance threatens their very liberal social agenda. If they opposed mixing religion and morality with politics, then they would have to disavow the boost the civil rights movement received from the church and its insistence that civil rights legislation is a moral issue.
Consider Rev. Raphael Warnock of the historic Ebenezer Baptist Church in Atlanta, Georgia, where Martin Luther King Jr. pastored:
Continuing in the footsteps of the Rev. Martin Luther King Sr. and the Rev. Martin Luther King Jr., who served as pastors of the church founded in 1886, Warnock actively works to get minorities registered to vote in what he sees as a complex mix of spiritual and civic obligation.
And who does Pastor Warnock "get minorities registered to vote" for? Democrats. He does this because he believes (wrongly) that the interests of the Democrat Party are the interests of Blacks, and he does this as a minister and uses his pulpit as a place of partisan advocacy.
If these supposed watchdog groups were consistent, they would have chastised Bill Clinton when he appealed to the members of the Full Gospel AME Zion Church in Temple Hills, Maryland, to help him pass a crime bill in 1994: "I ask you this whole week to pray for me and pray for the members of Congress. Ask us to not turn away from our ministry."8
Our ministry? Does this not clothe politics in religious garb? Clinton's appeal was no different from the political efforts of conservative Christian leaders who take a stand on particular issues.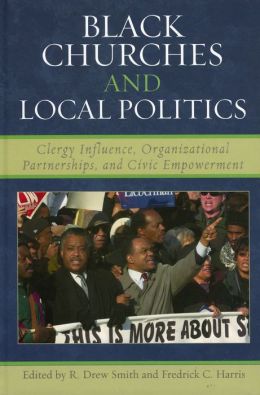 Also in 1994, Bill Clinton returned to the pulpit to stump for the former Democrat governor of New York, Mario Cuomo. "Rocking to resounding gospel strains, President Clinton went to a black church in the heart of Harlem today to rouse a vital constituency to turn out its vote for Gov. Mario M. Cuomo."9
Clinton went to the Bible in his appeal to the members of Bethel AME Church in an effort to reelect the then embattled Democratic Governor. Clinton told the congregation: "Do not lose heart. Show up, talk to the people in your neighborhood, tell them to show up. Scripture says we're supposed to be good citizens, too. Mario Cuomo is the heart that you must not lose."10
An Associated Press report called the President's comments "Bible-thumping politics."11 Clinton's message was decidedly religious and partisan, as was Governor's Cuomo's remarks as he "also cited religious themes and maxims."12
Why didn't the press, the ACLU, Americans United for Separation of Church and State, and the Freedom from Religion Foundation that was formed in 1978 cry foul?13
Weren't the President and the former Governor of New York, along with other Democratic attendees, engaged in mixing religion and politics? Where were the trumpeting cries of "separation of church and state" and the citation of IRS regulations? For example, why didn't Michael Gartner, who wrote a column for USA Today on why religion and politics do not mix, criticize Bill Clinton for mixing religion and politics?14
A perceptive letter writer noted the oversight: "Where is the outrage from the national media and the American Civil Liberties Union? Gartner's omission was just the latest example of the conspiracy of silence."15