Lena Dunham Should Consider Going as Josef Mengele for Halloween
Lena Dunham is an actress of some notoriety, although I've never seen anything she's done.
Here's how Wikipedia describes her accomplishments:
"Lena Dunham . . .  is an author, screenwriter, producer, and director. She wrote and directed the independent film Tiny Furniture (2010), and is the creator, writer and star of the HBO series Girls. She has received eight nominations for Emmy Awards as a writer, director, actress and producer and won two Golden Globe Awards for Girls. In 2013 Dunham became the first woman to win a Directors Guild of America Award for Outstanding Directing – Comedy Series."
She caused a stir with her book Not That Kind of Girl: A Young Woman Tells You What She's Learned where there are "passages recounting interactions, starting when she was seven years old, of a sexual nature with her then one-year-old sister Grace attracted controversy."
Dunham also claimed that she had been sexually assaulted by an Oberlin College classmate — a prominent campus Republican — which resulted in controversy over the accuracy of her account and a case of mistaken identity which took her months to clear up.
None of this matters since she's a liberal and supports the liberal blood sacrament of abortion. All can be forgiven and forgotten if you support abortion.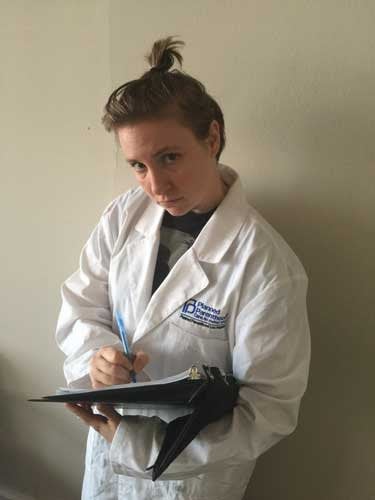 This Halloween, Dunham is dressing as a Planned Parenthood worker. "She considers the men and women who work at Planned Parenthood centers across the country to be her real-life heroes."
Why not dress up like Nazi war criminal Josef Mengele who "was notorious for the selection of victims to be killed in the gas chambers and for performing deadly human experiments on prisoners"?
Who would ever have thought that those facilitating the killing of unborn babies would be considered "real-life heroes"? There were many in Germany who thought Mengele was a real-life hero for exterminating Jews.
A former Auschwitz prisoner doctor said:
He was capable of being so kind to the children, to have them become fond of him, to bring them sugar, to think of small details in their daily lives, and to do things we would genuinely admire … And then, next to that, … the crematoria smoke, and these children, tomorrow or in a half-hour, he is going to send them there. Well, that is where the anomaly lay.
"According to Dunham, the same Planned Parenthood that aborted over 300,000 babies last year (and then harvested organs from their bodies for cash) is 'newsy, sexy, and cool.'" (H/T: The Federalist)
Unborn babies are not diseased appendages or globs of tissue that only become human persons when they take their first breath. They are what Dunham once was — persons deserving the full protection of the law.