Human Capital is What Makes Capitalism Work
Politics can be tiring. I need a rest from it, but it can never be escaped. In reality, politics cannot do what most people believe it can do, and when politics tries to do the things that it was never designed to do, it makes things worse.
If you want the world to change, it won't happen from the top down but the bottom up. A film that depicts something of what it takes is Frank Capra's It's a Wonderful Life (1946).
Dr. Gary North writes, "A review by James Berardinelli is a good introduction to the movie":
What is it about this film, an uplifting, sentimental fable about the importance of the individual, that strikes a responsive chord with so many viewers? Some might argue that it has something to do with the season, but I don't buy that reasoning. It's a Wonderful Life is just as good in July as in December—the time of the year has little to do with motion picture quality.1 Rather, I think It's a Wonderful Life has earned its legion of followers because it effectively touches upon one basic truth of life that we all would like to believe—that each of us, no matter how apparently insignificant, has the power to make a difference, and that the measure of our humanity has nothing to do with fame or money, but with how we live our life on a day-to-day basis. It's a Wonderful Life asks and answers a question that all of us think of at one time or another: "What would this world be like if I had never been born?"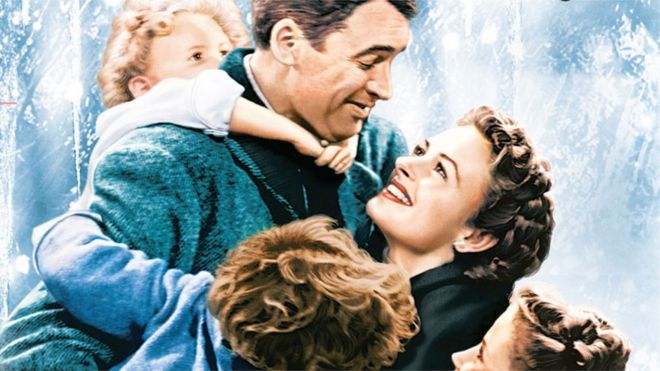 We don't have to wait until Christmas to appreciate this remarkable film. Today, It's a Wonderful Life only appears on broadcast TV and streaming around Christmas even though most of the events in the film do not take place at Christmas. To the surprise of many, It's a Wonderful Life was filmed in the heat of summer. When you see Jimmy Stewart's character on the bridge sweating, it was because of the oppressive heat. The snow was fake.
It's a Wonderful Life has had several copy-cat-films with similar themes but without the artistry and pathos of the original:
The plot of the film was copied in the rags-to-riches fantasy storyline (also with a guardian angel played by Michael Caine) of Disney's Mr. Destiny (1990), starring James Belushi, and in Brett Ratner's The Family Man (2000) with Nicolas Cage. The famous "Pottersville" alternate reality scenes were also referenced in Robert Zemeckis' Back to the Future Part II (1989), in which the small town of Hill Valley was transformed into a Las Vegas-like Babylon in 1985, with young Marty McFly (Michael J. Fox) in the role of George Bailey. (Filmsite)
It's a Wonderful Life was based on the short story "The Greatest Gift" written by Phillip Van Doren Stern in 1939 and was released to the movie theaters on December 20, 1946. It's set against the background of World War II. The film was Stewart's first film after serving in the war where he flew 20 combat missions.
The film is memorable today because the company that originally produced it went bankrupt. The rights passed from one corporation to the next until in 1974 no one remembered or cared to renew the copyright. After 28 years of languishing on the shelf of some corporation, it went into the public domain. This meant that any television station could show the film and didn't have to pay any royalties.
So, for nearly 20 years, It's a Wonderful Life appeared on hundreds of public and commercial stations every Christmas season. There were even It's a Wonderful Life marathons where it played consecutively throughout the day. When families got together for the holidays, and there wasn't much to do after catching up with family news, the kids would plop themselves down with their parents in front of the TV and watch what was on, which was mostly It's a Wonderful Life.
Broadcast and cable TV were it. This was before Netflix and other streaming services.
The movie that got lost in the morass of financial ruin is now on almost everyone's Best Films list. "It was nominated for five Academy Awards, including Best Picture, and has been recognized by the American Film Institute as one of the 100 best American films ever made, as number 11 on its initial 1998 greatest movie list, as number 20 on its revised 2007 greatest movie list, and as number one on its list of the most inspirational American films of all time. Frank Capra revealed that it was his personal favorite among the films he directed and that he screened it for his family every Christmas season."
It lost to another post-war film, The Best Years of our Lives.
So why have the ubiquitous showings of the movie nearly disappeared during Christmas? Republic Pictures re-acquired the rights to the film in 1993 because the music rights to the film had not expired. Because the copyright of the original story the film was based on had not expired, the film could not be shown for free.
In short, though the film itself is in the public domain, the story and music are not, making it impossible to show the film in its entirety on television without permission from the copyright holders, in this case, Republic Pictures. (Plagiarism Today)
There's no need to wait until Christmas to watch It's a Wonderful Life. It's available on DVD and Amazon Prime. Still, the best time to watch it is at Christmas just when the sun sets, and the snow begins to fall and glisten in the moonlight. Having a fire going also helps to set the mood. Go here for some fun trivia. For an almost scene-by-scene recounting of It's a Wonderful Life, visit the "Greatest Films" website.
Gary North sums up the significance of the film's message, often lost on today's audience, if there is one:
[T]he movie isn't about fractional reserve banking, any more than it's about angels getting their wings. It's about the positive, cumulative, but unseen benefits to many people of individual acts of charity and honesty. It's also about capitalism: home ownership, small businesses, and sacrificial hard work. That's why immigrants should be required to take a test on It's a Wonderful Life. It wouldn't hurt to have political candidates take the test, either. I suspect that most of them would flunk.
Here's a bit of trivia I did not know. Nick the bartender is played by Sheldon Leonard. "In 2007 he was given a posthumous 'tip of the hat' in the situation comedy, The Big Bang Theory in which the lead characters are named Sheldon and Leonard … because the writers are fans of his work."
North disagrees with this assessment: "He is wrong about the centrality of Christmas. To say that this movie is just as good in July is the equivalent of saying that Christmas carols are just as good in July. Technically, this is correct; aesthetically, it isn't. The movie is about redemption. It's a Christmas movie." [↩]